We have had a grateful year with an amazing team that always puts all effort into working and proud of the values we uphold as a team and as individuals. We all deserved an energy-recharged trip to relax and create more memorable memories for our journey. Therefore, VIVO 2019 is here and ready to boost up our beloved Offy spirits. Let's enjoy the moment with all your heart and soul!
Officience đã đi qua một năm thật ý nghĩa nhờ có các Offies luôn hết mình với công việc và tự hào về những giá trị mình mang lại. Chúng ta xứng đáng được tận hưởng một chuyến đi chơi để thư giãn sau những giờ làm việc căng thẳng và tạo nên nhiều kỷ niệm đáng nhớ sau một hành trình dài cùng nhau. Chính vì vậy, VIVO 2019 đã trở lại và sẵn sàng khơi dậy tinh thần nhiệt huyết của toàn bộ Offy. Hãy cùng nhau tận hưởng những giây phút tràn đầy năng lượng này nhé!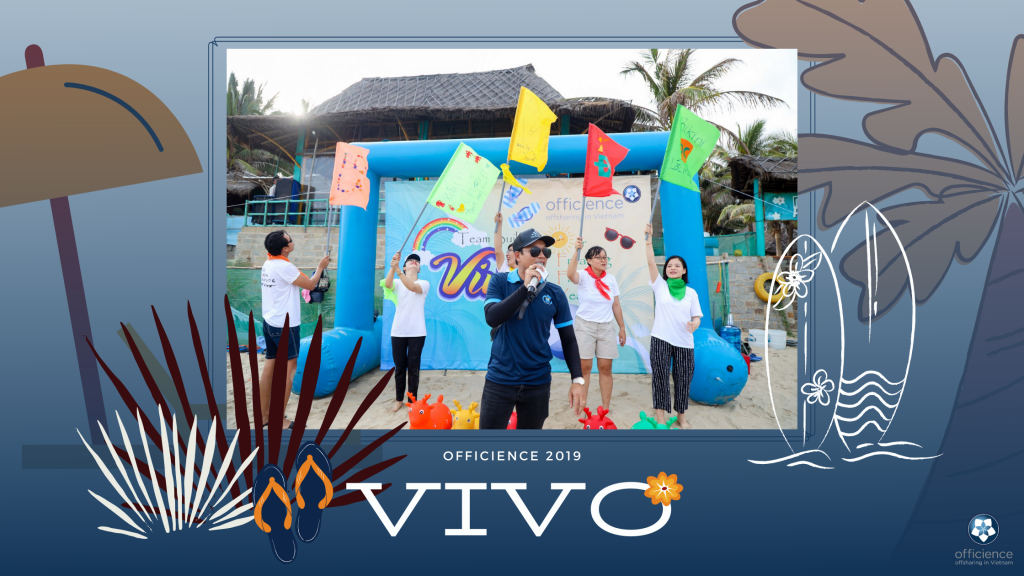 VIVO stands for "Very Intense, Very Offy", and it truly describes the energetic vibe that the annual activity aims to deliver via this team building. With the slogan "OFFY – Our Freaking Fantastic Year", VIVO 2019 is promised to be one of the most significant events which will heat up the atmosphere at Mui Ne – Phan Thiet.
VIVO, viết tắt của "Very Intense, Very Offy", là tên gọi mà Officience đặt cho những chuyến Team Building của chúng mình. Với slogan "Our Freaking Fantastic Year" (ráp những chữ cái đầu sẽ thành OFFY đó!), VIVO 2019 hứa hẹn sẽ trở thành một điểm nhấn ấn tượng trong năm và khuấy động bầu không khí của Bãi biển Mũi Né – Phan Thiết
This two-day trip is organized at Nam Chau Boutique Resort, located in the seaside with a blue sea and golden sand. The tropical air just helps all Offies quickly charge up some VitaminSea and be ready for the engaging activities coming up. Together, we have shown our spirit "Work Hard, Play Harder" through outdoor activities created based on Officience's 5 causes. 
Chuyến đi hai ngày được tổ chức tại Nam Chau Boutique Resort, khu resort nằm cạnh bên dải cát trắng cùng biển xanh trải dài ngập nắng. Không khi nhiệt đới đậm chất "Hawaii" tại nơi đây đã nhanh chóng nạp đầy VitaminSea cho các Offy và sẵn sàng cho những hoạt động vô cùng hấp dẫn sắp diễn ra. Các Offy đã thể hiện tinh thần "Work Hard, Play Harder" thông qua các trò chơi vận động được mang đến dựa trên 5 Giá trị mà Officience đang hướng đến.
Sustainability – "Unbreakable Connection" game: The circle is the representation of Officience's significant development and the ball is represented for our Earth. All members have to stay connected by holding hands, as a proactive team we have the power to maintain the development and balance the environment of our Mother Earth.
Sustainability – Game "Liên Kết Đồng Đội": Chiếc vòng biểu trưng cho sự phát triển của Officience và quả banh biểu trưng cho Trái Đất. Chúng ta phải cùng nhau nắm chặt tay, đoàn kết giữ vững sự phát triển của Offy đồng thời đi đôi với sự cân bằng môi trường của Trái Đất.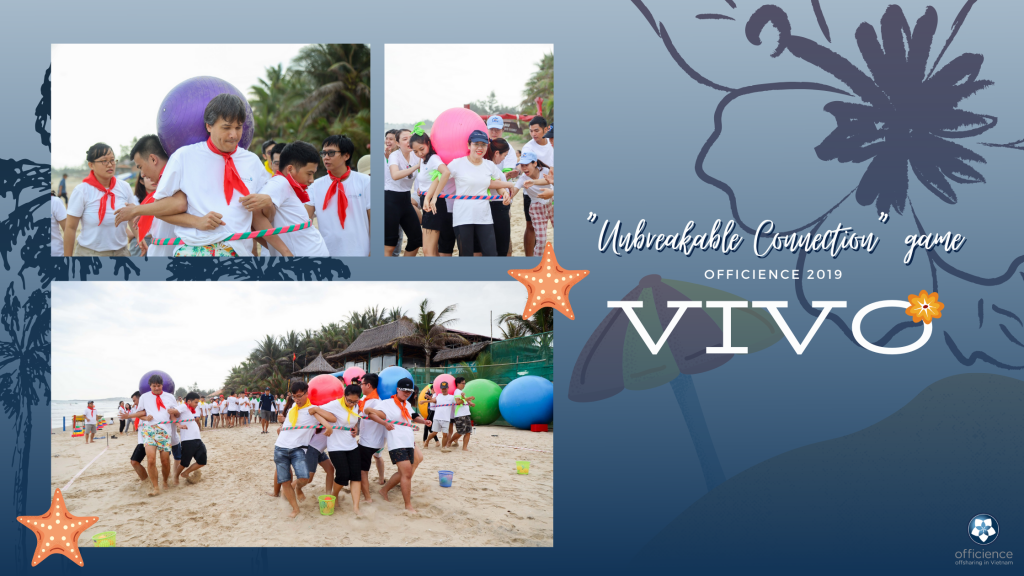 Open Knowledge – "Knowledge is shared, Power is gained " game: By sharing the information, knowledge during this game, Offy has to show their understanding to other teammates and help them discover solutions to solve the challenges.
Open knowledge – Game "Hoán Đổi Tư Duy": Việc truyền đạt kiến thức tới những thành viên khác, đòi hỏi các thành viên đã hiểu biết phải hiểu đồng đội, giúp họ hiểu ra vấn đề và cùng nhau đưa ra những phương án để cả đội vượt qua thử thách và giải được game.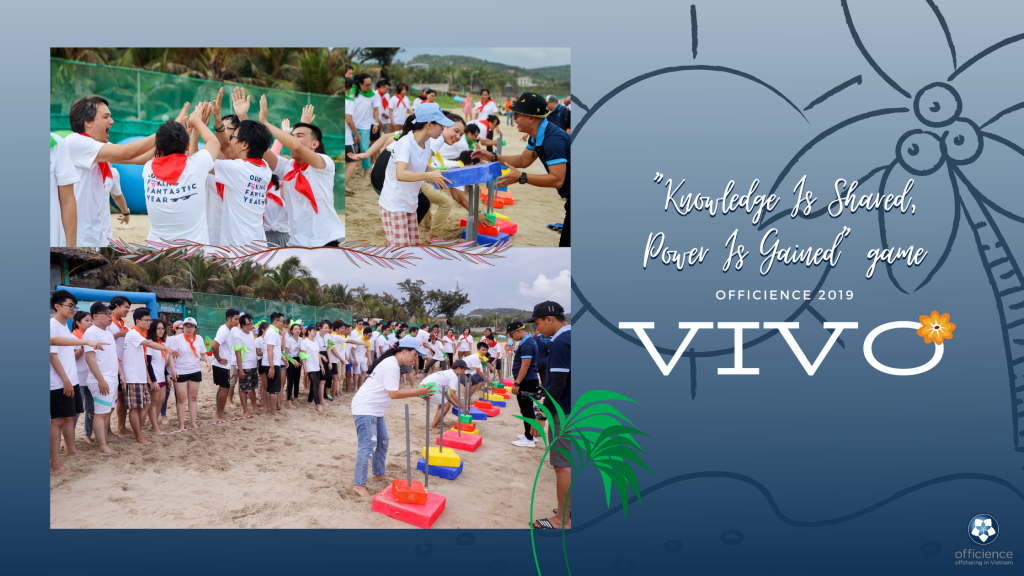 Developing Vietnam – "The Memorable Water Sources" game: The pipe is represented for Vietnam and the motion of pouring water expresses the resources we invest to nurture the country's growth. However, in reality, the resources are always being lost, like the water spilling out the pipe and dripping through those tiny holes. Therefore, Offies have to stand together and quickly distribute human resources to conquer the difficulties and achieve the best outcome.
Developing Vietnam – Game "Nước Về Nguồn Cội": Ống nước tượng trưng cho Việt Nam và nước được đổ vào giống như những nguồn lực mà chúng ta "rót" vào nhằm đẩy mạnh sự phát triển của đất nước. Nhưng nguồn lực lúc nào cũng bị thất thoát, tượng trưng bởi đường dẫn nước và những lỗ hổng trên thân ống. Chúng ta phải cùng nhau hợp lực để đạt được mục tiêu cũng như sự phân bố nhân lực phù hợp để giai đoạn phát triển được liền mạch hơn.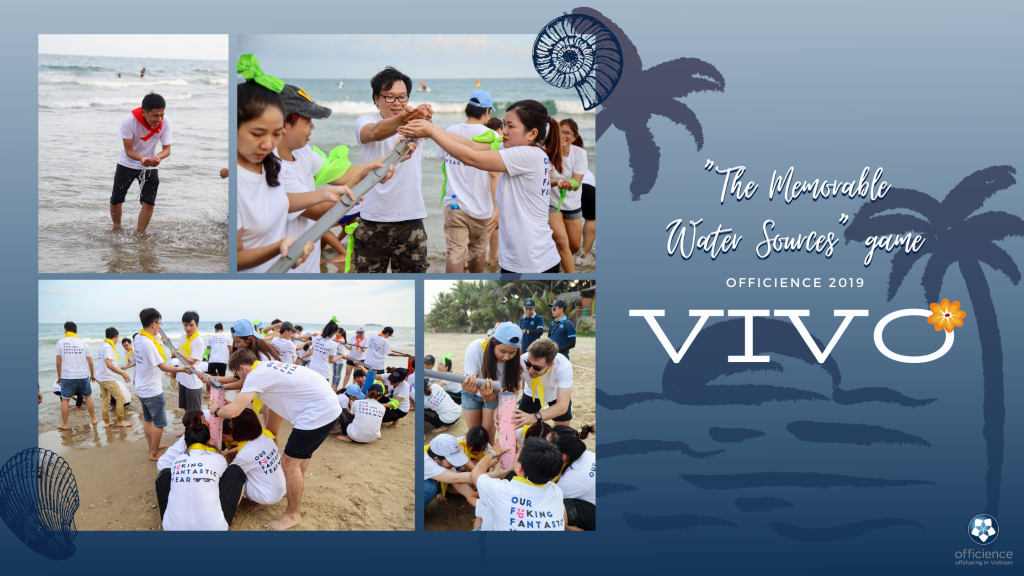 Positive Globalization – "Break Your Limitation" game: The rolling ball is describing the World that always moves and develops unstoppable, while the person sitting on that ball is presented for Offy. Hence, as a part of this community, we also need to adapt and grow to success.
Positive Globalization – Game "Vượt Qua Thử Thách": Quả banh lớn tượng trưng cho thế giới và liên tục xoay chuyển, thay đổi. Điều đó đòi hỏi người ngồi trên, đại diện cho Offy, phải tận dụng sự hội nhập và bắt kịp vòng xoay để có thể chạm tới các cột mốc phát triển thành công trong tương lai.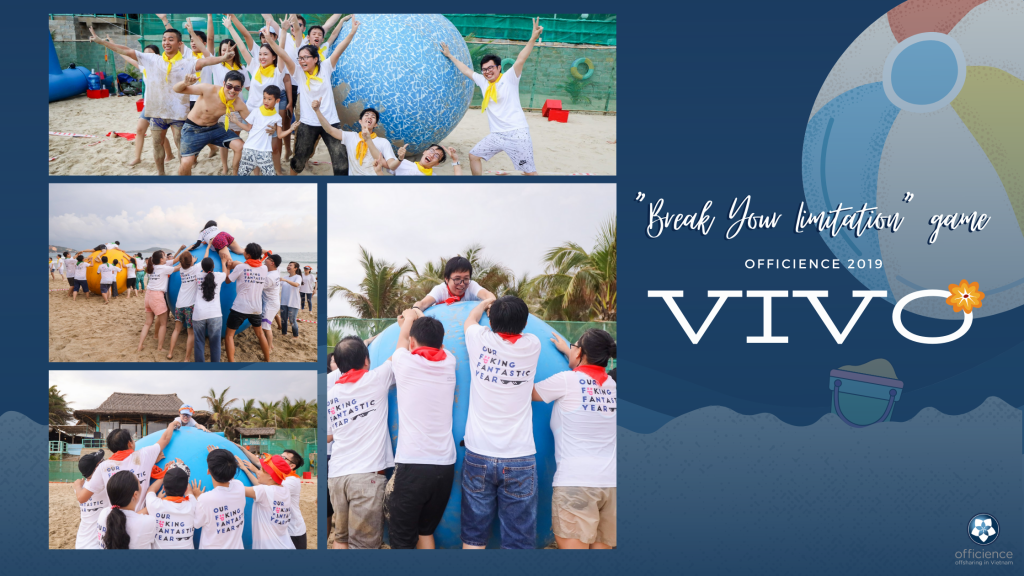 Creating Shared Value – "We are Achiever" Game: The last game requires all teams to combine into one big family – Our beloved Tribe and run to finish with joyful and satisfaction. This is an "All in One" moment that Offies step forward, break those barriers, and support each other. Since then, we all create such meaningful values that contribute to social development.
Creating Shared Value – Game "Chiến Thắng Vinh Quang": Ở trò chơi cuối cùng, các đội chơi đã cùng nhau kết hợp, nắm tay nhau về đích. Những két bia thể hiện được nguồn lực có hạn của mỗi nhóm hoặc mỗi thành viên. Khi các Offies bỏ qua các rào cản, biết chia sẻ và giúp đỡ cho nhau thì sẽ tạo ra được một giá trị to lớn hơn rất nhiều so với những lợi ích cá nhân hoặc lợi ích nhóm, đem lại sự phát triển cho cả tập thể.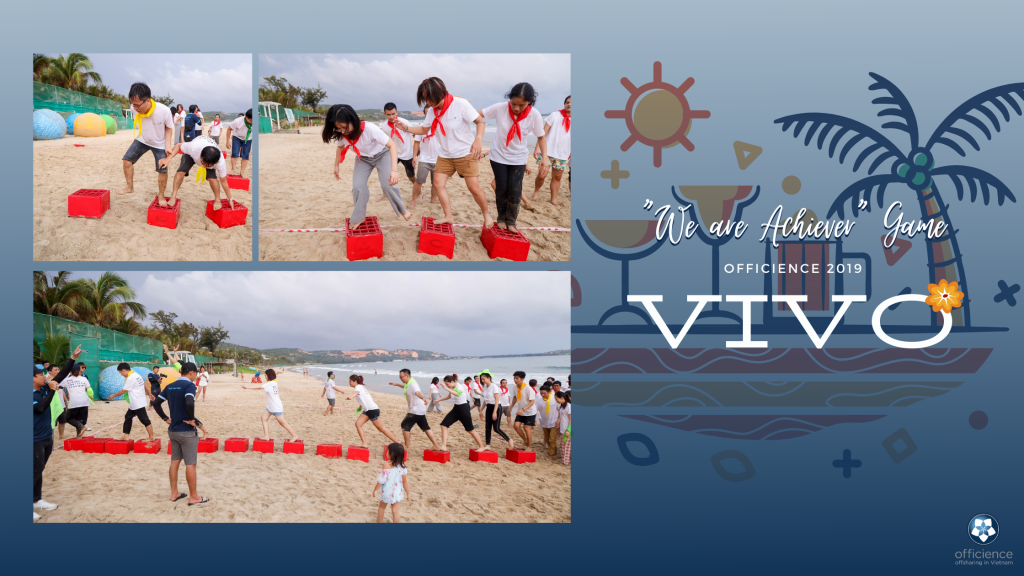 After all the outdoor activities, GALA Nights is the most highlighted party that all Offies are waiting for. The night topic is "Five Continents" with costume festival format, 5 teams have to prepare and perform for five countries from five continents. Each team has their way to show their creativity and enjoy every moment. Thanks to them, we all as a part of the Tribe, have such an unforgettable night.
Sau tất cả những hoạt động ngoài trời, đêm GALA là phần được toàn thể Offy mong chờ nhất. Với chủ đề "Costume Festival – The Five Continents", 5 đội chơi sẽ đại diện cho 5 quốc gia từ 5 châu lục khác nhau, hóa trang và trình diễn. Các đội đã cho thấy tinh thần "chịu chơi" và sáng tạo của mình thông qua các màn trình diễn vô cùng đặc sắc. Những tràng cười giòn tan, "trào nước mắt" đã tạo nên những khoảnh khắc vô cùng ý nghĩa cho cả chương trình.
With VIVO 2019, all Offies can have Opportunities For Finding Yourself by meeting with new friends beyond your team and your cluster, showing your talent and finding new changes.
VIVO 2019, các Offies đã có cơ hội "Opportunities For Finding Yourself – Tìm lại chính mình" thông qua những cuộc trò chuyện, vui chơi cùng bạn bè, đồng nghiệp đến từ các team khác nhau.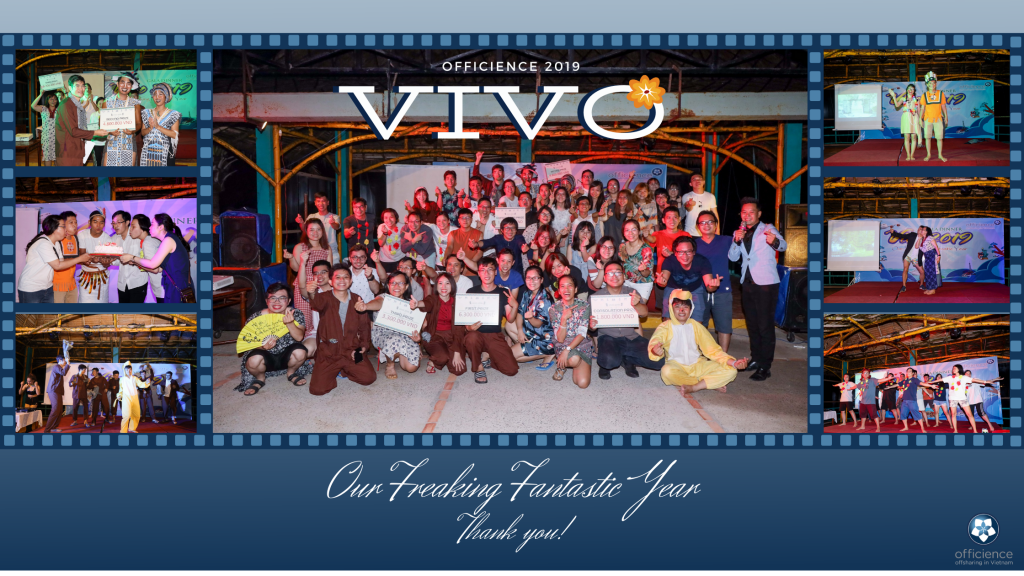 ツ LET'S ROCK WITH US! ツ