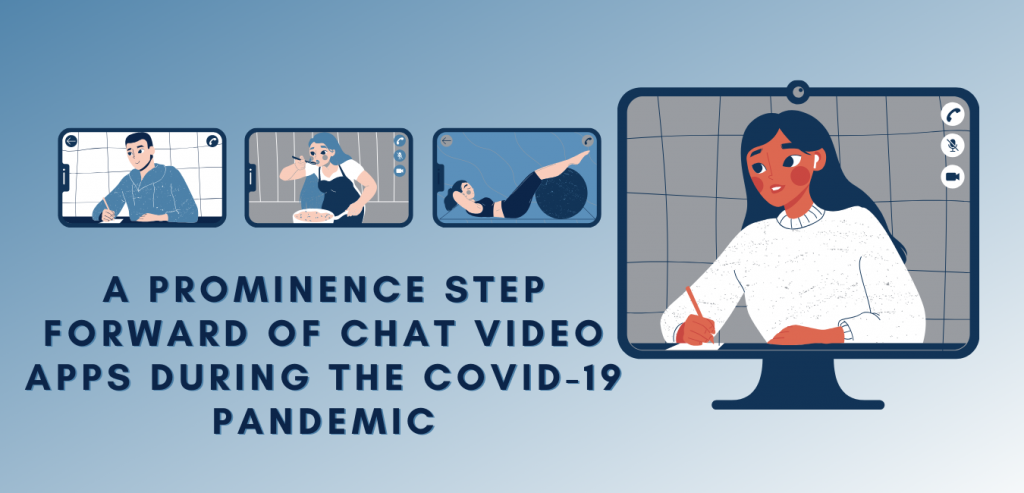 A majority of countries are currently on lockdown due to the significant outbreak of COVID-19 pandemic. It has led to the temporary closed for several businesses, which will limit the spreading of virus and support the community in preventing disease. Therefore, the tendency of "Work from home" becomes the most priority for all employees to apply, except for particular positions.
Sự bùng phát của đại dịch COVID-19 đã khiến cho phần lớn các nước trên thế giới rơi vào tình trạng "phong tỏa tạm thời" để chính phủ có thể thực hiện các biện pháp phòng chống dịch bệnh và kiểm soát được sự lây lan của loài virus nay. Chính vì vậy, hình thức "làm việc tại nhà" được đưa lên hàng đầu và hầu hết các doanh nghiệp đều áp dụng chính sách này cho nhân viên của mình, không bao gồm những vị trí đặc thù buộc phải ở văn phòng.
People start to utilize the benefit of technology to work, communicate, stay in touch with colleagues and friends. Especially, video chat apps are most used during this time thanks to its convenience and user friendly. Reported by Priori Data, top 3 video chat apps leading in global downloads are Skype, Houseparty and Zoom, increasing more than 100 percent in March.
Điều này đã vô tình trở thành cơ hội cho những thành quả của công nghệ, một lần nữa được khẳng định thế mạnh của mình. Trong đó, các ứng dụng chat video được người dùng sử dụng nhiều hơn trong khoảng thời gian này, vì sự tiện dụng, dễ dùng và đáp ứng được nhu cầu giữ liên lạc, trao đổi công việc cùng bạn bè, đồng nghiệp tại nhà. Theo một khảo sát của Priori Data, top 3 ứng dụng Skype, Houseparty và Zoom đang dẫn đầu trong lượt tải xuống với mức tăng hơn 100% chỉ trong tháng 3 trên toàn cầu.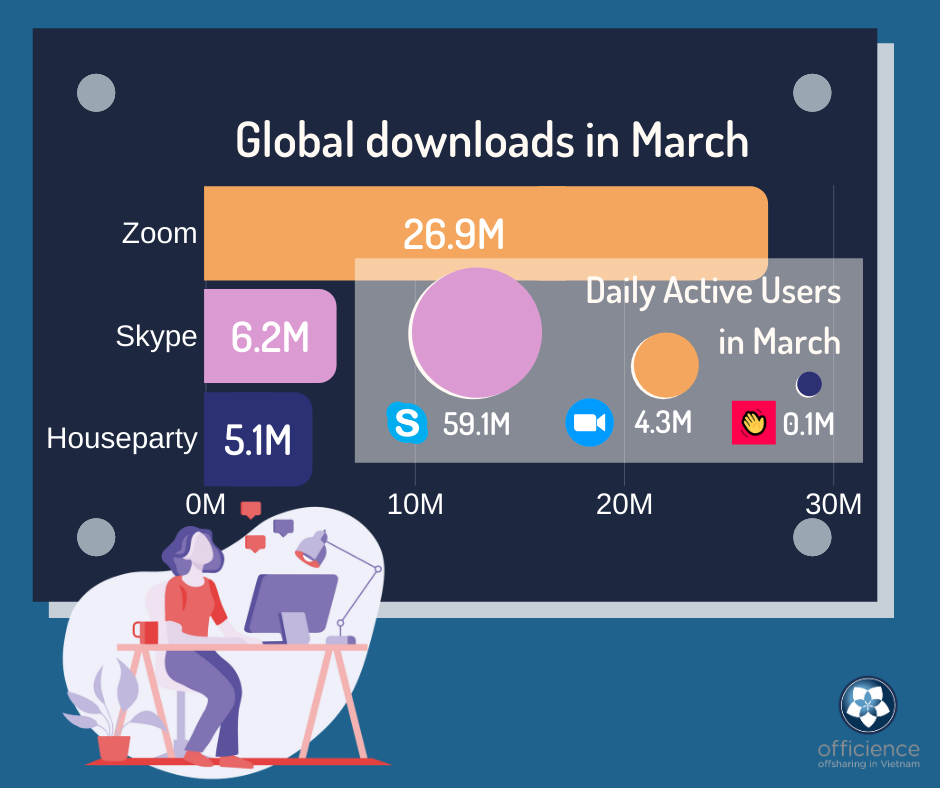 With a significant rise, nearly 27 million users in March starting from 2 million since January, Zoom is the rising star among others. However, the daily active user of Zoom is only 6 million, while Skype is more remarkable with the peak of 59 million users per day on both iOS and Android apps. This difference can be understood by the specialty of apps, in which Skype is useful for users to keep in touch with friends and colleagues and Zoom is specialized for video conferences.
Trong đó, Zoom là một tân binh mới trên thị trường, với lượt tải về trong tháng 1 là 2 triệu, Zoom đã có một bước tiến ấn tượng với sự tăng trưởng nhanh chóng trong tháng 3, gần 27 triệu lượt tải xuống. Tuy nhiên, lượt truy cập hằng ngày của Zoom chỉ đạt ở mức 6 triệu, trong khi đó Skype lại dẫn đầu với 59 triệu người dùng mỗi ngày trên cả hai hệ điều hành iOS và Android. Sự chênh lệch này có thể hiểu bởi tính chất và nhu cầu sử dụng ở các ứng dụng là khác nhau. Đối với Skype, người dùng sẽ ưu tiên cho nhu cầu trao đổi, giao tiếp với bạn bè, đồng nghiệp. Còn đối với Zoom, ứng dụng lại tập trung cho mục đích hội nghị trực tuyến phù hợp cho các phòng ban, doanh nghiệp trong thời gian làm việc tại nhà.
Source: https://bit.ly/2wU86Vh